Remove light impurities and increase your selling price with ease.
Applications
The pre-cleaner is ideal for the separation of light impurities from grain, maize, peas and beans.
Features
Modular System

 

– Pre-cleaner, fan, and air intake regulator are self contained units.
Flexible

 

– Location of components based on your individual requirements or limitation of space. This allows the fan and regulator to be located at any point in the trash pipeline.
Ease of Setup

 

– One simple adjustment on the air intake regulator. (The ideal position of the regulator is adjacent to the trash outlet so the effect of any adjustment can be observed).
Drive

 

– Electric Motors are the most common form of drive. Both 240Volt-Single phase, and 480Volt-3 phase motors are available. Units can be supplied without a drive motor to allow the fitment of another type, such as a Hydro motor.
Efficient

 

– Low initial cost and low power requirement.
Safety

 

– No external drives.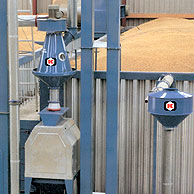 Want to know what we can do for you?
Models
4 sizes available to suit your operation.
KF12 – 12 tonne / hour
KF20 – 20 tonne / hour
KF40 – 40 tonne / hour
KF60 – 60 tonne / hour
Accessories
Dust Cyclones
OK Piping systems
Drives
Operation
The uncleaned crop falls through an upward moving air stream, generated by the fan. Particles lighter than the crop are uplifted by this airflow and carried out through the trash outlet. The cleaned crop is discharged through the bottom outlet. Adjustment is made through a mechanical air regulator.
The addition of a trash cyclone is recommended.
Technical Data
KF 12
KF 20
KF 40
KF 60

Max. capacity (barley), t/h

12

20

40

60

Motor output, kW (HP)

0,75 (1,0)

1,5 (2,0)

5,5 (7,5)

7,5 (10)

Motor speed, rpm

3.000

3.000

3.000

3.000

Weight (incl. of motor), kg

75

105

250

260

Motor form

Standard flanged

Max. recommended pipe length from fan outlet *,m

25 (OK 160)

15 (OK 200)

15 (Ø 300)

15 (Ø 300)
*Horizontal, including two 90° bends and cyclone.
(Excessive length may reduce the cleaning efficiency)
Aspiration pre-cleaners
The aspiration pre-cleaners are typically used as secondary cleaner after drying and during out loading. They can also be used alone, but are less effective than the Kongskilde KF pre-cleaners.
Technical Data
FR 25
FR 40

Fan

FRL 10

FRL 10

FRL 12

Capacity *, t/h (max. 18% m.c.)

25

40

40

Motor output, kW (HP)

0,75 (1,0)

0,75 (1,0)

1,5 (2,0)

Motor speed, rpm

3.000

3.000

3.000

Motor form

Standard, flanged

Weight (incl. of motor), kg

34

43

52
*The cleaning efficiency depends on the capacity. As the capacity increases, the rate of separation will fall.
Applications
The aspiration pre-cleaners FR 25 and FR 40 are used for removal of dust and light impurities in down pipe systems.
Models
2 sizes available to suit your operation.
FR25 – 25 tonne / hour
FR40 – 40 tonne / hour
The FR40 is equipped with a FRL10 blower for removal of dust or a FRL20 blower for removal of light impurities.
 De Vree Equipment has experience in Agricultural Equipment for 40 years.
  We are dedicated to supplying quality equipment and solutions viable to the industry.
  We engage in secure business relationships with our suppliers and completely back the products supplied
Contact us to get a quote now
For further information, please contact us today!