The OK pipe system is ideal for pneumatic and mechanical conveying and for ventilating applications in both farming and industry.
Applications
Applications range from the conveying of crops, waste paper, plastic granulates and sawdust to complete ventilation systems.
The simple and flexible pipe systems may be adjusted to suit any specific purpose, resulting in shorter conveying distances and therefore the most efficient and economical solutions.
Customized systems can be supplied – tailored to meet any specific requirement – whether for conveying or for ventilation.
Features
Robust construction

 

– made from galvanized sheet steel. The rolled pipe ends serve as reinforcements, maintaining the circular shape and ensuring tight joints.
Three pipe diameters

 

-The OK pipe system is available in three different diameters:

 

OK100(100 mm),

 

OK160

 

(160 mm) and

 

OK200

 

(200 mm). The dimensions refer to the outside pipe diameters.
Selection of wall thickness – OK

 

standard,

 

OKR

 

reinforced and

 

OKD

 

extra reinforced (for gravity flow).
Full utilization of the air stream

 

– continuous smooth inner surface of the pipeline giving gentle and efficient conveying, as well as maximum utilization of the air stream.
Modular pipe system

 

– Designed in modular form the OK pipe system comprises pipes, bends, branches, diverters, cyclones, outlets, etc.
Ease of Installation

 

– using the unique OK quick release couplings. The wide choice of OK pipes and accessories ensures flexibility and ease of installation in existing buildings.
Temporary and permanent installations

 

– Two types of OK couplings are available for temporary and permanent systems, respectively.
Saving floor space by wall or ceiling mounting

 

– OK pipe supports permit wall and ceiling mounting, thus keeping clear valuable floor space in production premises or storage plants.
Economical in operation

 

-The OK couplings make maintenance and alterations easy tasks.
Modern technology, Competitive prices

 

– The modern manufacturing technology together with the carefully devised modular design and the extensive use of standardized components ensures an efficient system at competitive prices.
Expertise and know-how

 

– Kongskilde has supplied pneumatic pipe systems for over forty years. Such experience, of course, adds greatly to knowledge and expertise in this field.Dow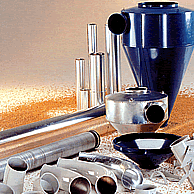 Want to know what we can do for you?
 De Vree Equipment has experience in Agricultural Equipment for 40 years.
  We are dedicated to supplying quality equipment and solutions viable to the industry.
  We engage in secure business relationships with our suppliers and completely back the products supplied
Contact us to get a quote now
For further information, please contact us today!