Extensively used by reputable grain cleaning operators.
Applications
Kongskilde batch weighers are used to record weight of material entering and leaving storage. Smaller models are used for mixing and feeding installations. They can be used for the weighing of cereals and other granular materials up to a particle size of 15 mm (5/8 in). Twin Compartment Weighers are ideal for use on mobile seed cleaning Plants.
Features
Modular Design

 

– Enables incorporation into conveying systems.
Reliability

 

– Robust but simple construction.
Range of Materials

 

– Used for weighing cereals and other granular material with particles up to 15mm.
Mechanical Counter

 

– Reliable 7 digit counter standard.
Models
Twin-compartment Weighers
KA10 – 8 Tonne / Hour
KA25 – 15 Tonne / Hour
KA50 – 25 Tonne / Hour
Kongskilde Twin Compartment Weighers are suitable for mixing and feeding installations. They are extensively used by mobile seed cleaning operators throughout Australia, being suited to pickled grain. They are also used in Pellet Batching Plants.
The KA10 can be fitted with an inlet control shutter.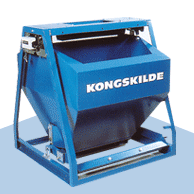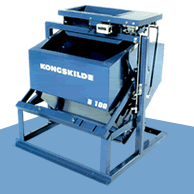 Want to know what we can do for you?
Single compartment Weighers
B50 – 27 Tonne / Hour
B100 – 40 Tonne / Hour
The single compartment weighers combine greater accuracy (+/-0.5%) with high capacity. A facility incorporated in the machine simplifies check weighing and calibration. The weighers can be linked to system controlling batch weighing.
Operation
The batch weighers operate on a continuous batch weighing principle, in which the material flows constantly through the weigher at a given capacity.
Weighing is based on establishing a balance between the batch of the material and the weigher's fixed weight. This ensures optimum accuracy, irrespective of the material being weighed.
Note: All weighers should be checked for accuracy on a regular basis. Weighers not suitable for fine meal or similar materials which bridge easily.
The weigher should have, at least, a capacity equal to other equipment involved in the installation.
Accessories
Electronic Counters

 

– Battery & Electric
Dust covers
Inlet and Outlet Hoppers
OK piping system transitions
Height adjustable legs
Flow control

 

baffles (standard on single compartment weighers)
Mechanical programmable batch

 

counters (KA10 & KA25 only)
Twin-compartment

Single-compartment

Weigher type
KA10
KA25
KA50
B50
B100

Batch size, kg per comp., standard

10

25

50

50

100

Batch size, kg per comp., min/max

6-12

20-30

40-60

40-60

70-125

Capacity t/h (dry barley)

8

15

25

27

40

Volume per compartment, litres

26

68

130

120

225

Net weight, kg

30

52

75

85

142

Accuracy deviation (subject to correct adjustment and operation)

+/-1%

+/-1%

+/-1%

+/-0,5%

+/-0,5%
All weighers are balanced at the factory to weigh out the batch indicated. If desired, the weight may be varied within the limits stated above.
 De Vree Equipment has experience in Agricultural Equipment for 40 years.
  We are dedicated to supplying quality equipment and solutions viable to the industry.
  We engage in secure business relationships with our suppliers and completely back the products supplied
Contact us to get a quote now
For further information, please contact us today!